About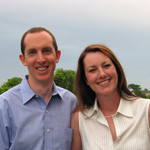 The Constables Larder is written by Giff Constable and Lisl Dunlop. We original hail from Washington D.C. and Sydney, Australia, and now live with our family outside of New York City. While our cooking influences and experiments range quite widely, our focus tends to be on comfort food, rustic cooking, and what Richard Olney and Alice Waters call "simple food".
If a recipe is on the blog, it means we really enjoyed it.  We let the failed experiments and "good but not great" dishes fall by the wayside, unless there is a funny story to share or useful lesson to be gleaned.
We welcome you to comment on the site or send us an email.  If you try a recipe, please let us know how you liked it or how you changed it!
p.s. if you came looking for Giff's blog on technology and media, that's over at http://giffconstable.com, and his art/design site is at http://constable.net.
Contacting Us
Email: larder -at- constable.net
Twitter: constablesblog
Vineyard in New Zealand's Martinborough region; Lunch on Serifos in the Greek Islands