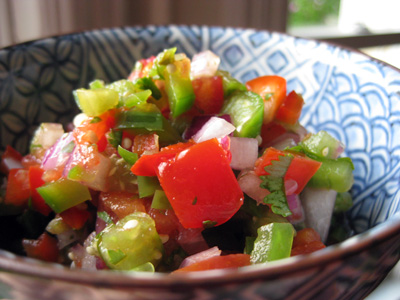 There's an old saying, "if you can't beat em, join em."  It applies quite aptly to summertime heat and a good, fresh salsa don't you think?
My current favorite method of salsa making is about as simple as it gets, and just relies on fresh ingredients.
Fresh Salsa
6 medium tomatillos, diced
2 large ripe tomatoes, diced
1 red onion, diced
5 or 6 spring onions, finely chopped (use all the green)
1 green pepper, diced
1 red pepper, diced
3 cloves garlic, minced
1 to 3 fresh jalapenos, minced (add heat to personal taste; can also use cayenne or serrano)
juice of 1 to 2 limes, to taste
large bunch of cilantro, chopped
1 tbsp rice vinegar (or to taste)
salt and pepper to taste
Just chop everything up and combine in a bowl.  Serve with some tortilla chips, or toast some bread with a little olive oil for a simple bruschetta, or serve as a garnish alongside a well-seasoned and grilled flank steak.
Don't forget the beer. 🙂
Today Lisl had some friends from her choir over for lunch, and this went over quite well (we also had a hit with a black-eyed pea salad that was sort of a combination of this and this).
Below the fold, I'm attaching a few more photos from our recent trip up to the Catskills.