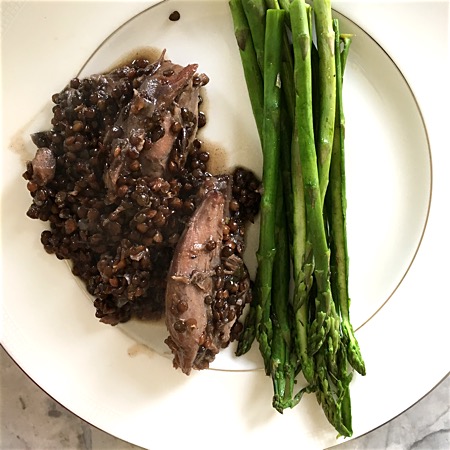 1 lb black lentils (french/puy lentils can be used instead)
5 lamb shanks
1.5 vidalia/sweet onions, finely diced (or red onions)
4 cloves of garlic, minced
3 carrots, halved across the length
1 stalk of celery, halved across the length
2 tbsp olive oil
3 tbsp pork lard (optional)
bottle of red wine (such as a cotes du rhone)
~2 cups of water
1.5 tbsp minced rosemary
3 bay leaves
handful of parsley, tied together with kitchen string
salt
pepper
big pinch of ground nutmeg
big pinch of ground clove
big pinch of ground cinnamon
Preheat oven to 250F.
Sear the lamb shanks, 2 or 3 at a time so that you do not crowd them, on medium heat in a large dutch oven or pot. Set aside.
Turn off the heat for a few minutes to let the pot cool. Turn on the heat again to medium-low and add the olive oil, then the onions. Cook the onions for 5-10 minutes until they start to turn translucent, stirring to make sure they do not stick and burn on the bottom of the pan. Add the minced garlic and cook for a couple minutes.
Because I wanted to make sure that the lamb did not dry out, I also added some pork lard, which I render myself when braising pork shoulder, but alternatively you could just cook the dish with a few pieces of bacon (discard towards the end of cooking) which would add a nice smokiness.
Add the lentils and cook for a couple of minutes, stirring often. Then stir in the bottle of red wine (personally I like using a reasonably priced but drinkable bottle of wine from the south of France for this purpose).
Stir in a half-teaspoon of salt and add the carrots, celery, bay leaf, parsley and rosemary. Add the shanks back in and immerse them as best you can.
Cover and cook in the oven for 1.5 hours at 250F, or if you are not using a pot that can go in the oven, on the stove-top on very low heat.
Taste for salt and add more as needed, along with a few pinches of ground black pepper and the cinnamon, clove and nutmeg. Stir in 2 or 3 cups of water. Cover again and cook for another hour or so.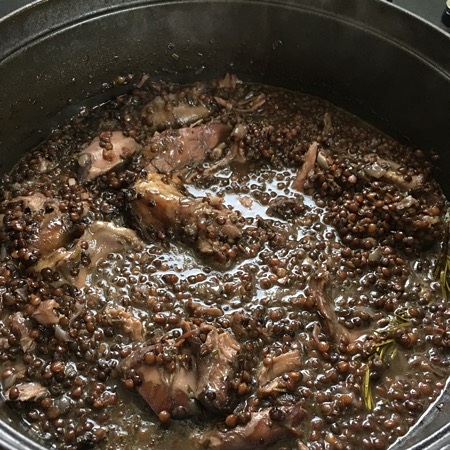 All of the above can be done the night before, reducing the amount of time needed before the meal. Just let the pot cool and then put the entire thing in the fridge overnight.
At this point, I remove the meat from the lamb shank bones, trimming them of excess fat and cartilage but keeping the meat in large pieces. However, add the bones back to the pot, discarding right before serving. I discard the carrot and celery at this point, and add more salt and pepper (and possibly some rosemary, either minced or in stalks) to taste.
If you do split the cooking process overnight, just warm the pot up again over a low flame and then return to a 250F oven, uncovered, for a final hour of cooking.
To serve, make sure that the carrot, celery, bay leaf, parsley, and rosemary stalks (if any) are all discarded. Either plate directly or ladle into a serving bowl.