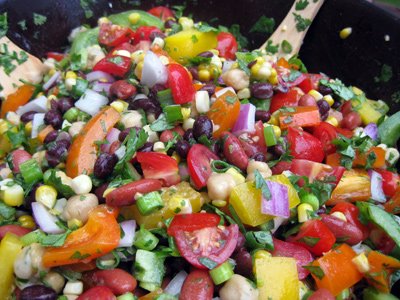 It is so nice to have grilling season back upon us. In many cases, our jobs as cooks is to get out of the way and let the food and fresh product do the talking.  Here are notes from Saturday's dinner, when we had a few guests over for Lisl's birthday.
Three Bean Salad
1 can of red kidney beans
1 can of garbonzo beans (chickpeas)
1 can of black beans
4 ears of corn
4 sweet peppers (multiple colors if possible), cut into bite sized pieces
1 red onion, diced
1 bunch of spring onion, diced
Large bunch of cherry tomatoes, halved
1 jalapeno pepper, minced
Large bunch of cilantro, washed well and chopped
limes
lemon
salt and pepper
olive oil
champagne vinegar
I make this salad slightly different every time, but my basic routine is the following.  Carefully wash the canned beans in a colander, drain and add to the bowl.  Cook each ear of corn, still in the husk, in the microwave for 2 and a half minutes, then remove husk and take kernels off with a knife once cool enough to touch.  Dice the spring onions, using all of the green part, and toss it in with the diced red onion, tomatoes, jalapeno and sweet peppers ( I like using a mix of red, green, orange and yellow).
Dress the salad by taste.  Stir in the cilantro, juice from 1 lemon, juice from 3 or 4 limes, a sprinkle of olive oil and champagne vinegar (but go light on the oil and vinegar — you want the citrus to stand out).  Add salt to taste, and add some freshly ground pepper. Depending on how juicy your limes are, the number of limes you want to use will vary.
I like dressing this ahead of time so everything absorbs some of the citrus flavor.  This is a great, hearty and bright salad for serving a large number of people.
Pork Tenderloin Marinade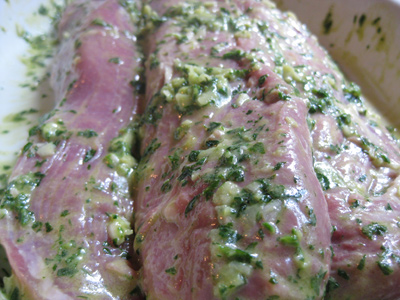 Large handful of parsley, chopped
Several sprigs of fresh oregano, leaves removed and chopped
4 large cloves of garlic, chopped
1 tbsp Olive oil
1 tbsp dijon mustard
1 tbsp apple cider vinegar
1/2 tsp salt
Pinch of fresh pepper
I made this marinade for use on three pork tenderloins — the amounts are ballpark but you can't really go wrong here.  With a mortar and pestle, mash up the garlic and herbs.  Stir in the rest of the ingredients then rub all over the pork.  Cover and place in the fridge for several hours, then grill by searing the pork and then cooking on a cooler part of your grill until the meat hits the right point of firmness.
Side note: I was cooking on my brother-in-law's grill the other weekend and I was reminded how difficult it is to work with unfamiliar equipment. I totally overcooked the chicken.  On my own grill, where I know how and where heat distributes, I was really pleased with getting these tenderloins perfect.  Lisl laughed and said it shows just how tough those Top Chef challenges are when they get thrown into crazy circumstances.
Shallot & Lemon Salad Dressing
There's nothing rocket science here, but I'm addicted to the following salad and dressing and figured I would make a note of it:
Mince up a big shallot (or more than one shallot) and let the shallots sit for 20 to 30 minutes in the juice from 1 lemon and a couple splashes of champagne wine vinegar.  Then wisk in some olive oil, a dab of dijon mustard, and a pinch of salt and pepper.  Toss over a bunch of baby arugula (rocket), with some nice tomatoes and maybe some sliced mushrooms or red pepper. Can't beat it.
Addendum
I've had Disqus installed on my tech blog forever and I *finally* have it installed here.  I much prefer the threaded comment system and after a few goes, it looks like it has imported all the old comments.