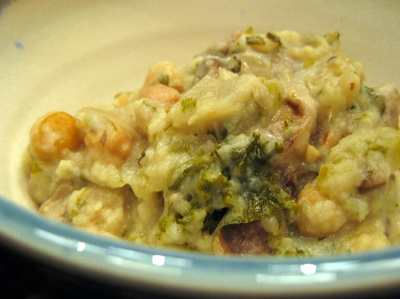 This vegetarian stew was completely winged tonight but I ran with the concept of trying to heighten each flavor first, and then bring things together. I loved how it came out. The idea of the turnip puree came from Kevin on Top Chef last season and I loved it — was almost like coconut milk.  It reminded another person of a chicken pot pie.  I loved how the puree thickened the meal into a great comfort dish without the need for flour.
This was a big hit so I thought I should write down my best memory of the process while it was fresh in my mind.  The amounts below are kind of rough, but it's stew — nothing needs to be exact here!
3 tbsp unsalted butter
1/2 cup cream
1/4 tsp sugar
2 medium/large turnips, peeled and roughly chopped
1 large sweet onion, chopped
4 or 5 garlic cloves, minced
1 lb white mushrooms, halved and sliced
1/2 lb shiitake mushrooms, stemmed and sliced
3 celery stalks, finely chopped
2 cans of chickpeas (or equivalent dried and cooked)
6 to 8 stalks of kale, stemmed and roughly chopped
5 or 6 small red potatoes
1 cup white wine or vermouth
1 tbsp apple cider vinegar
2 tbsp fresh oregano, finely chopped (or half as much dried)
1 to 2 tbsp fresh parsley, finely chopped
pinch of hot red pepper flakes
salt and pepper to taste
Stage 1: cooking the separate ingredients
A. In a large pot, saute the onions and garlic in a touch of olive oil and 1 tbsp of butter, and let slowly cook on low heat for 15 minutes. Add the celery and a couple pinches of salt and continue to cook.
B. Place the turnips, 1/2 cup of cream, and 1/2 cup of water in a pot and simmer until the turnips are soft
C. Melt 2 tbsp of butter in a saute pan and cook the mushrooms, with a couple pinches of salt, for 15-20 minutes. Add 1 tbsp of apple cider vinegar near the end.
Stage 2: the rest!
Pour 1/2 cup of vermouth (or white wine) into the pot with the onions and celery and let it cook down a bit, then add in the kale.  Cover and let simmer for several minutes.  Once the kale has initially softened, add in the cooked mushrooms and the chickpeas, oregano, parsley. Add another 1/2 cup of vermouth and 1 cup of water and continue to cook.
Place the turnips, with the cooking liquid, in a food processor and let cool.  At this point, I rinsed out this pot, brought water to boil, and boiled the potatoes for 10 to 15 minutes to soften.
Puree the turnip and cream, and add 1/4 tsp of sugar.  Gently stir the puree into the stew, add the pepper flakes and a couple pinches worth of freshly ground black pepper, and add the potatoes when they are done.
Cook the stew for a while longer on very low heat until you are happy the flavors have all come together.  Add some water if it feels too thick.  Taste for salt and pepper.