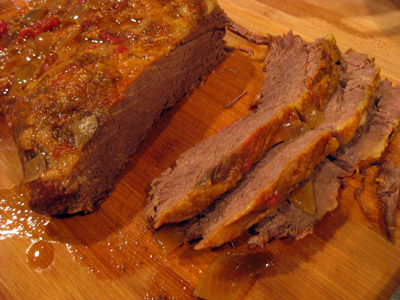 Hoo boy, it has been a long time since I have written a post here.  The startup is the guilty party of course. I've been cooking, but mostly variations of things already found on here.  This weekend I did a variation on brisket that I wanted to record.
4 or 5 lb brisket, from the lean end (in this case, grass-fed)
1.5 tbsp smoked paprika
1.5 tbsp kosher salt (if you use regular salt, use much less)
2 poblano peppers
4 or 5 pieces of bacon
2 spanish onions
1 28oz tin of whole, peeled tomatoes
7 or 8 cloves of garlic, peeled
7 bay leaves
2 sprigs of oregano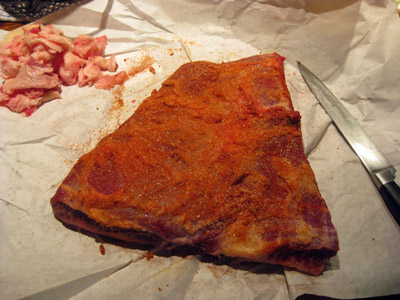 Preheat your oven to 275F.
Remove the excess fat from the top and bottom of the brisket, and rub the salt and paprika all over. Get your dutch oven nice and hot, splash a little grapeseed oil down, and quickly sear both sides of the brisket. Remove to the side, turn the heat way down, and saute the onions until translucent, then add the tomatoes.  Chop up your fresh oregano and mix in, along with half of the bay leaves.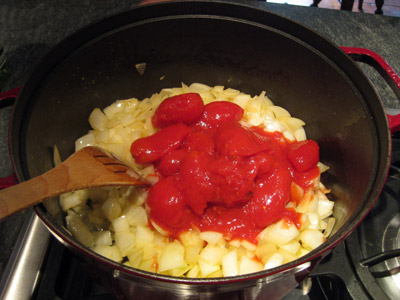 Remove the stem and seeds from the poblano peppers.  Nestle the brisket on top of the onions and tomatoes, and wedge around it the poblano peppers, garlic cloves, a half cup of water, and the remaining bay leaves. Lay the bacon strips on top. Cover and cook in the oven for 5 hours, flipping the brisket halfway through, but keeping the bacon on top.
When done, remove the brisket and set aside on a carving board.  Slice across the grain to serve.
To make a sauce, remove the garlic cloves, bacon and the bay leaves. Skim as much of the oil/fat from the top as you can. Then blend the rest together with an immersion blender. Taste for salt. You might also brighten the sauce up with some fresh herbs such as parsley and/or oregano.