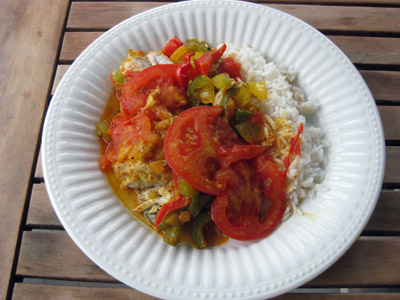 There is nothing like eating fish you catch yourself. We are up in Nantucket taking a short vacation with the family. The day after our arrival, my father and I caught a few bluefish and cooked them that evening with my dad's classic "slather in mustard-and-mayo, then saute" method. This trip, our St. Lucian nanny, Clothilda, also came with us and she offered to make her curry fish stew if we caught some more.

Great point lighthouse and my dad reeling in the line
Talk about a motivator! We were on a mission. It took some determination and patience, but we finally landed ourselves a couple more blues and last night Tilda made her stew while I played sous-chef and took notes.
Tilda's Curry Bluefish Stew
4 medium bluefish filets (this recipe would also be great for snapper and tilapia)
1/4 cup olive oil
2 stalks of celery, chopped
1 large onion, chopped
1 red pepper, sliced into thin lengths (1" to 2" long)
1 green pepper, sliced into thin lengths (1" to 2" long)
8 garlic cloves, peeled then crushed or minced
2 tsp curry powder
1/2 tsp turmeric
1 tbsp tomato paste
salt and pepper
2 – 3 limes
3 medium tomatoes, sliced
A few hours before cooking, cut the fish filets into single-serving portions and sprinkle each side with a pinch of salt and pepper and fresh lime juice. Cover and return to the fridge until you cook.
Heat up the olive oil on medium high heat and add all the vegetables except for the sliced tomatoes (these get saved for the very end). Saute together for several minutes, then add the curry, turmeric, the tomato paste, about 1/4 tsp of table salt and a big pinch of black pepper.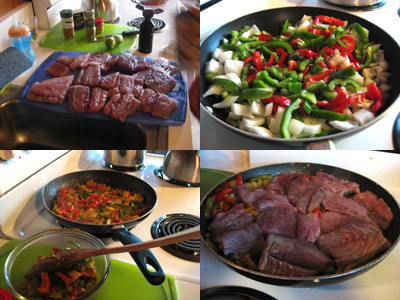 Steps in the process
Taste for salt and heat. If you want it hotter, add more hot curry powder or some crushed red pepper flakes.
Once all the vegetables are cooked, remove half to a bowl and turn the stove burner down to low.
Place the filets on top of the vegetables still in the pot and squeeze the juice of a lime over the filets. Cover the fish with the remaining vegetables and then layer the thin slices of tomatoes on top.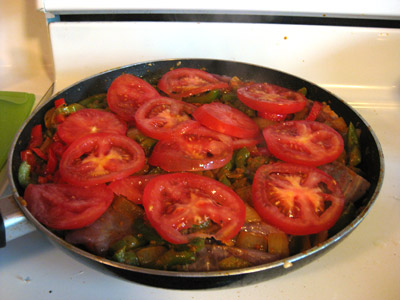 Cover the pan so that the fish will steam, and cook for 15 to 20 minutes (if you are using a thinner filet like tilapia, check the fish after 10 minutes).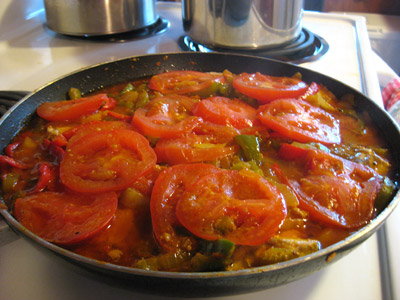 Taste for salt and pepper, and serve with rice. Delish!