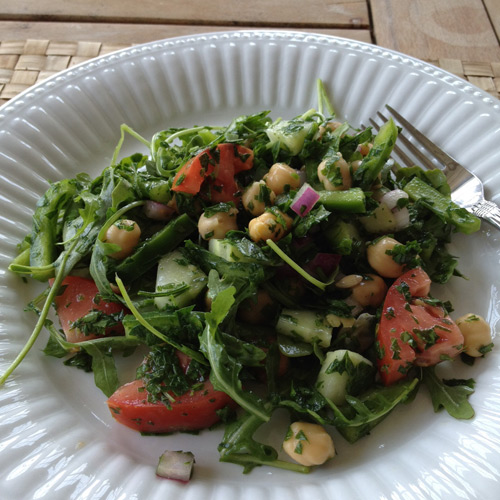 Ah to be on vacation and have time to food blog again!  I tend to eat a lot of salad for lunch in the summer time.  I love tabouli but on its own, tabouli would leave me hungry.  So I created this salad in the same vein (tons of parsley!) but going for a heartier meal. It uses my "go to" salad dressing, of which I never tire.
Salad Ingredients
1 large bunch of flat-leaf parsley, finely chopped
a handful of halved cherry tomatoes or sliced larger tomatoes
half a cucumber, halved and sliced
1 can of chickpeas, thoroughly washed
1 green pepper, sliced into thin, bite-sized pieces
large handful or arugula
Combine all the salad ingredients in a large bowl, and then add the dressing. Taste for salt — the chickpeas might want a bit more salt than a typical green salad.  One twist is to make the dressing first and pour over the chickpeas, letting them marinate before you add the other vegetables.
Lemon-Shallot Dressing
1 lemon
dash of red or white wine vinegar (not balsamic)
1 shallot (minced) or part of a red onion (finely chopped)
mustard (grey poupon or grain mustard)
olive oil
salt and pepper
To make the dressing, first squeeze the juice of a lemon into a bowl or mug (remove any seeds). Add a dash of vinegar (about a teaspoon). Mince up a shallot (or the red onion) and add to the liquid and let sit for 10 minutes or so.
With a fork, stir in a little olive oil (start with about a teaspoon).
Whisk in a little mustard to taste (start with about 1/8 of a teaspoon).
Adjust oil, mustard, and salt and pepper to taste.