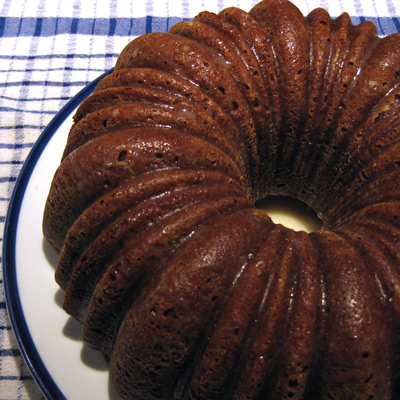 What do excess zucchini and a bored, unwell 4 year old have in common?  Elise's Chocolate Zucchini Cake over at Simply Recipes!  This made for a fun Sunday afternoon project, and we've been happily nibbling the delicious results all week. It has a wonderful chocolate flavor, and stays moist and not too dense. Lisl was worried that the zucchini might give it a vegetable-y flavor, but one taste and she was sold.
At first I was scouring Elise's post and comments in puzzlement that the grated zucchini was not squeezed to remove the water, but indeed it is not necessary — the recipe already accounts for the moisture. Note that in the below ingredients, posted for my own future reference, I halved the amount of orange zest used.
I heartily recommend that you pop over to Simply Recipes to read the post and directions.
Chocolate & Zucchini Cake
2 1/2 cups regular all-purpose flour, unsifted
1/2 cup cocoa
2 1/2 teaspoons baking powder
1 1/2 teaspoons baking soda
1 teaspoon salt
1 teaspoon cinnamon
3/4 cup soft butter
2 cups sugar
3 eggs
2 teaspoons vanilla
1 teaspoon grated orange peel
2 cups coarsely shredded zucchini
1/2 cup milk
1 cup chopped walnuts or pecans
Glaze
2 cups powdered sugar
3 Tablespoons milk
1 teaspoon vanilla