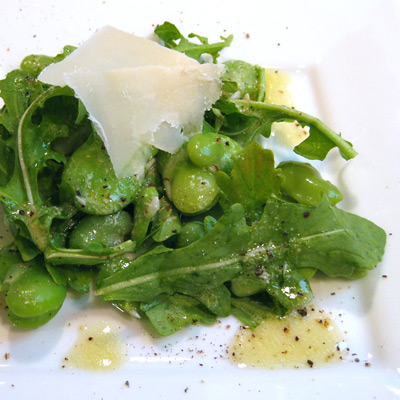 Here's a very simple something to start off a meal, or to act as a palette cleanser part way through — best served with a crisp white wine.
I have not been a happy CSA customer this summer (I'll just say, it's not *just* the fault of the weather), but I'll spare you the detail on that. One nice thing they have given us is fava beans, and I was able to pick up some arugula from the farmer's market this weekend. They paired very nicely here.
Fava Bean, Arugula and Shaved Parmesan Salad
Serves 4
4 large handfuls of fava bean pods, shelled
2 handfuls of arugula leaves, washed with bottom stems removed
1 lemon
olive oil
salt and pepper
dijon mustard
parmesan cheese
After shelling the fava beans, boil them in water for 3-4 minutes then drain and quickly plunge into ice water to stop the cooking. Once cool, you want to remove the outer layer of the fava beans. I find it easiest to pinch at the edge of the skin at the dimple of the bean, and then squeeze the bean out — it should slip out quite easily.
Make the dressing by combining the juice of 1 lemon, an equal amount of olive oil, a pinch of salt, a small amount of dijon mustard, and a teaspoon of finely grated parmesan cheese.  Wisk it up well with a fork, then combine with the fava beans in a bowl for about 15 – 20 minutes.
Right before serving, gently mix in the arugula leaves and plate with some fresh pepper and some parmesan shavings on top.