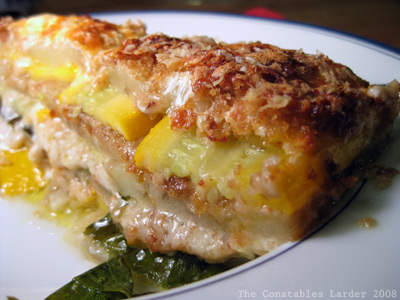 [Update 8/30/09 a year later, I made this dish again and loved it as much, if not more.  I am updating the recipe to be less of a record of the original creation and more of a general recipe).
I seem to be on this vegetarian comfort food kick. Tonight's dinner was a lovely success, layering eggplant, zucchini, cheese, breadcrumbs and basil. I completely winged it (having only about 2 brain cells left to rub together after a late night and a long day) but at the first bite Lisl and I were both at "wow!" I suppose I shouldn't be surprised… melted veggies with gobs of cheese and olive oil? As Mr. Powers would say, yeah baby!
3 golden zucchini (green or summer squash fine as well)
2 medium Japanese eggplants, peeled (Italian eggplant fine as well)
1 cup coarse bread crumbs (whole wheat or rustic white)
large handful of basil leaves
1/2 cup coarsely grated mozzarella cheese (version 2: manchego)
1/2 cup coarsely grated monterey jack cheese (version 2: cheddar)
1/2 cup coarsely grated parmesan cheese
extra virgin olive oil
salt and pepper
In a food processor, pulse your bread into coarse breadcrumbs. Preheat oven at 350F.  In a baking tray, spread out the crumbs and bake, occasionally stirring around, until lightly browned.
Peel the eggplant with a vegetable peeler and slice lengthwise into slices about 2 millimeters thick.  (Optional: salt both sides of the eggplant and place in a colander to drain for about 20 minutes. Dry the slices with paper towel. Then slice the zucchini the same thickness.
Heat a large pan with olive oil on medium to medium-high heat and saute your eggplant and zucchini for 30-40 seconds a side, adding more olive oil to the pan between each batch. You don't need to cook the slices all the way, just enough to soften them.
In a deep, medium-sized baking dish baking dish, layer your gratin by alternating the ingredients as you wish, or in this order:
eggplant
a mixture of the 3 cheeses
zucchini
salt and pepper
scattering of breadcrumbs
layer of basil leaves
cheese
eggplant
zucchini
salt and pepper
cheese
basil
eggplant
zucchini
salt and pepper
final, more thorough layer of cheese
final, more thorough layer of breadcrumbs
Don't be afraid to cut your slices of eggplant or zucchini into the necessary size to fit the gaps in a layer. Where it calls for salt and pepper, just add 2 or 3 turnings of a grinder.  The order of the layers and ingredients is anything but scientific — the flavors will blend together nicely.

Out of focus picture but you get the point…
Optional: drizzle some olive oil over top.
Baked for 50 minutes at 350F. You get a delightful crust and a totally melted core. The layer of basil really permeates this dish nicely. It's rich, but oh so satisfying. This dish can handle a hefty, peppery red wine should you be so inclined.
I'll end with a few "ingredients" pictures.

I love how this one came out.