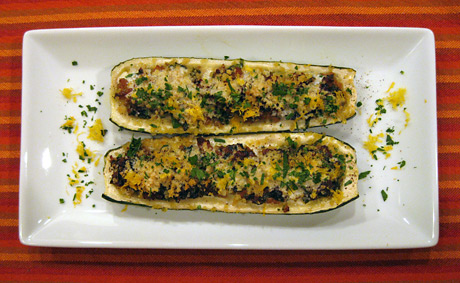 What defines a "comfort" dish?  Sentimentality, based on good home cooking? Texture? Ingredients? Process?  Rustic presentation? I can't quite put my finger on it.  This particular dish qualifies, but perhaps anything with the word "stuffed" in its name stacks the deck a little too steeply in its favor.  It is interesting how a word so derogative when applied to humans becomes so delightful when applied to food.
As I mentioned the other day, Gourmet Worrier's recipe for Qarabaghli mimli bil-laham caught my eye. I ran with the concept, and created my own version, which combines ground pork shoulder, some nicely smoked bacon, aged asiago cheese, breadcrumbs, crème fraîche… oh nevermind, the recipe is below the fold!
The Stuffing
4 to 6 medium green zucchini
4 pieces of thickly cut bacon
1 lb ground pork shoulder
1 medium yellow onion, finely chopped
1/2 cup dry vermouth
1 large bunch of ramp greens (can substitute spring onions or leeks), cut in a large chiffonade
pinch of hot red pepper flakes
1 large bunch of parsley, chopped
1/2 cup aged asiago cheese, grated (gruyere would be excellent as well)
1 egg
1/2 to 1 cup bread crumbs
The Sauce
8 oz crème fraîche
pinch of nutmeg
1 or 2 lemons, zested and juiced
1 bunch of chives, finely chopped
freshly chopped parsley
Step 1: turn your zucchini into little boats.  Chop off the ends, halve them, and lightly run the knife down the sides of the zucchini as if you were de-seeding it, but stop with the knife before you get to the end.  Using the knife is optional but it makes things a little easier, for the next step is to carve out the hollow of your vegetable canoes with a teaspoon. Put the center parts of two of the zucchini halves aside for this menu, and save the rest for something (like ratatouille, see end of post).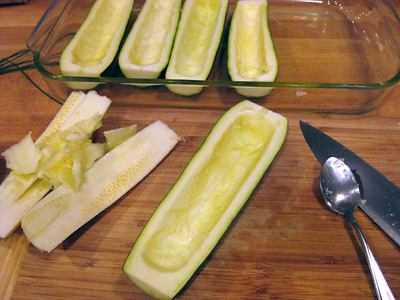 Make some breadcrumbs by removing the crust from an older loaf of bread (I used a sourdough bagette here), and breaking down in the food processor.  Spread the breadcrumbs out on a small baking tray, scatter some dots of butter, and bake at 350F until just golden brown.  Reserve.  Leave the oven pre-heated at 350F.
Cook your bacon in a large saute pan until almost crispy then chop up and put to the side. Remove most of the bacon fat and saute the onions on medium low heat for a few minutes. Turn up the heat to medium and add in the ground pork, sauteing until lightly browned.  Add in the vermouth and cook for a few more minutes, then stir in the ramp greens, red pepper flakes, parsley and bacon. Cook for a few more minutes and turn off the heat.  Stir in the asiago cheese and taste for salt and pepper. When you are happy with the seasoning, beat an egg in a separate bowl and stir it in.
If you have a grill, I highly recommend rubbing a little olive oil on the "cut" side of the zucchini and searing quickly on the grill top.  Partly this is for aesthetics, but for the final presentation I was wishing I had been able to take that step (my grill needs some fixin').
Place the zucchini halves on a baking dish, and rub the bottoms with some olive oil (depending on the size and number of zucchini, you might need two — I did).  Scoop the mixture into each of the canoes.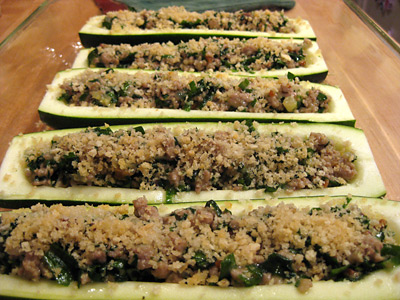 Drizzle some olive oil around the edges of the zucchini, and sprinkle a healthy amount of breadcrumbs over each one.  Bake in the oven at 350F for about 50 minutes.
The Sauce
The crème fraîche sauce makes this dish, so you do not want to skimp!  Take about 8 ounces of crème fraîche, and thin it slightly with some lemon juice.  Add in a pinch of ground nutmeg.  When you serve the zucchinis, generously spoon the sauce on top, and then scatter some lemon zest, freshly chopped chives, and freshly chopped parsley on top.
Notes
This goes nicely with a simple side salad and a full bodied white wine. We finished off the meal with some strawberries and blueberries coated in honey and a chiffonade of fresh basil. Zoe reminded me how much I liked this simple desert. Honey and basil together transform into something new and delightful.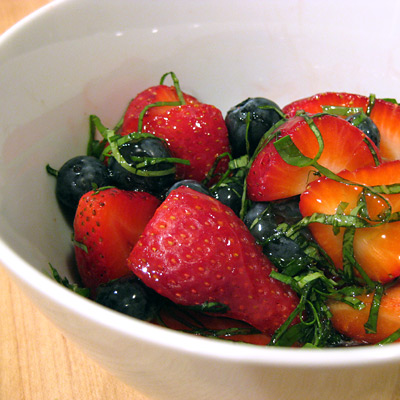 – – –
Summer "Leftovers" Menu Idea
I thought I would also append this post with a simple dinner that is not worthy of it's own post. After reading Stacey Snacks and Tartelette, I had to cook up a ratatouille. Mine had its own touches but was pretty basic, so I won't repeat a recipe here.  I sliced up some cold beef (from a gorgeous porterhouse steak we grilled the other day, but a grilled, cold london broil would work too), and served it with a pesto-like green sauce. The sauce was created by combining parsley, basil, half a garlic clove, lemon juice, capers, pine nuts, olive oil, hot red pepper flakes, a small amount of salt and pepper, a touch of white wine vinegar — all mashed together to taste with a mortar and pestle.  We served this with some pickled ramps, and a chilled pinot noir.
I really enjoyed this meal because it worked for a hot evening, with the ratatouille adding substance without heaviness, and the sharp sauce adding a contrast that worked well with the cold beef. As usual, my plating skills left something to be desired, but that is a skill I have yet to conquer.