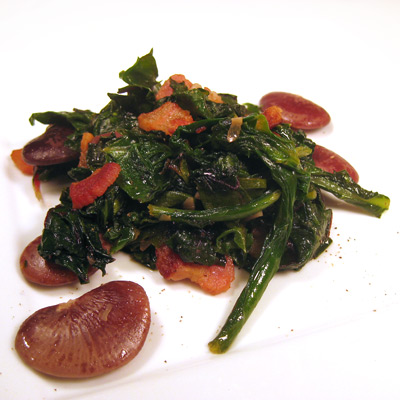 Beet greens are a new, delightful discovery to me.  For the longest time, I carried a grudge against beets for the appalling way they treated my childhood taste buds.  My conclusion, at age 8, was only the only one logical, or even thinkable: like Romeo from Verona, the vegetable must be banished. Of course, my mother wished that I could think in terms of the Bard at that tender age, but I was probably too focused on drawing spaceships destroying each other with intricate multi-colored laser beams.
Lisl has brought many new things into my life which I find surprisingly enjoyable, like children (well, maybe the jury should be out on that one), washing up as I cook, pavlova (more on that below), and beets.  Roasted beets with goat cheese, walnuts, and arugula. That's so good, it doesn't need to be a grammatically proper sentence.  However I digress from the initial impetus of this post, which was me using more of the greens from the vegetables I purchase. Who knew that you could eat beet, turnip, radish, dandelion, etc etc greens? (Answer: many of you, but not me until last year!)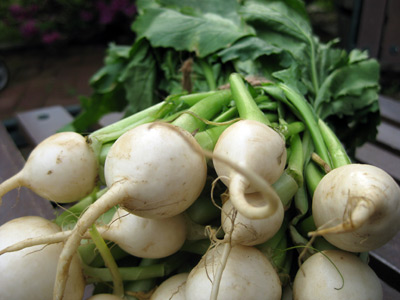 I purchased some beets with the greens still attached and fresh. I also found these baby turnips with their greens at the Kingston, NY farmers market (now open).  When Lisl and I had dinner at Blue Hill at Stone Barns the other weekend (wonderful experience), one of my favorite elements was the simplest: raw baby turnips with a subtle dressing.  And that is exactly how I ate the beauties in the above picture.  But rather than throw out the greens, which I might have done in an earlier, more ignorant phase, I sauted them with the beet greens in this fairly classic combination:
Sauted Beet and Turnip Greens with Bacon and Legumes
Bunch of fresh beet greens
Bunch of fresh turnip greens
2 or 3 slices of thickly cut bacon
1/4 cup of dried or fresh legumes (see below)
salt and pepper
optional: dry white wine or vermouth
The first step in creating this dish is cooking the legumes. I think the best choice for this dish is cranberry beans, but I made this twice recently with flageolet beans and separately with christmas lima beans (top picture, they are like lima beans with a slight chestnut flavor) and enjoyed both. Cover the beans with an inch or so of cold water, bring to a boil for a few minutes, then lower to a very light simmer until tender (if dried beans, this can take 30 to 60 minutes or more, depending on age of beans). Optionally, you can add in a bay leaf, half an onion, and a crushed garlic clove.  When the beans are tender (a nibble on a cooled bean will tell you), drain and set aside until needed.
Thoroughly wash your greens and dry them with a kitchen towel.  Remove any greens that are yellow or very wilted.  Loosely chop them right before adding to the pan.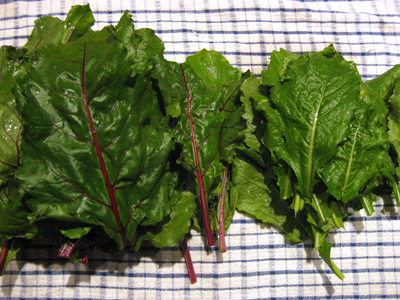 beet greens on the left, turnip greens on the right
Halve the bacon slices lengthwise, and the cut into 1/4 inch pieces. Cook in a large saute pan on medium-low heat until they are lightly browned but not yet crispy.  Chop and add the greens, then cover and cook for three minutes.  Uncover and stir in the beans (you don't need to use all the beans — just enough so that you are happy with the proportions) along with a little salt and pepper.  Cook for another couple of minutes, stirring occasionally and adding a splash of white wine or vermouth if you are inclined.  The greens should not take long to cook — taste for salt and pepper and then serve.
The first time I made this, I paired it with pork loin covered in a basil and radish leaf pesto (more use of unusual greens, although for pesto I recommend parboiling and squeezing some of the moisture out of the radish leaves first).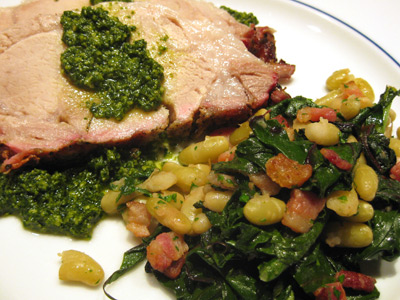 Other Food Photos and Notes
• I made my favorite braise of the year (pork shoulder with ginger, fennel and citrus) when Stephane from Zen Can Cook and Claire from Colloquial Cookin' came to visit us in the Catskills. I used too much broth and ended up with a sauce that did not live up to the original.  What I love about this dish is that it transforms fennel into something completely new and delicious, but I'm afraid I was a terrible and self-indulgent host by admitting my disappointment in not attaining complete perfection a few too many times.  Still, with those guests, I was understandably shooting high!
• I made another favorite braise recently (brisket in white wine) and this one was a slam dunk. Love that recipe.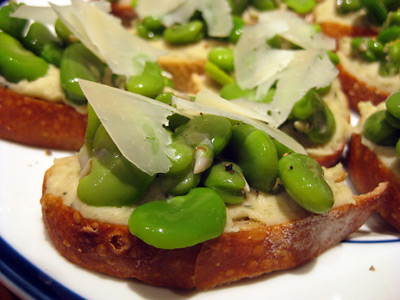 • Lisl, Claire, Stephane and I collaborated on these little crostinis (above), which were quite nice. Claire and Stephane did the majority of the work, but they were basically as follows: the bread was toasted with garlic and olive oil, then topped with a flageolet bean puree (with herbs and butter), topped with some fresh fava beans (which next time I'd toss with a bit of vinegar), and finally with thinly sliced, aged asiago or pecorino and some salt and pepper.

• I grilled some berkshire pork chops with this dry rub (link) and knew I had done my job right when Stephane was twittering about it a few days later.  I paired this with a favorite simple salad of mine, as follows: parboil some fresh green beans (leave some crunch!) and then toss with cherry tomatoes and a shallot/olive oil/white wine vinegar/mustard dressing.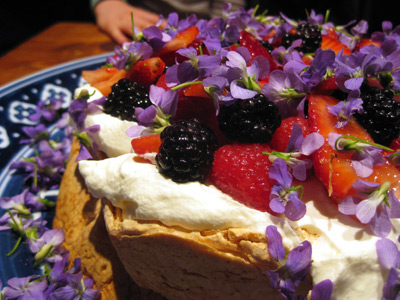 • Remember at the start of this behemoth post that I mentioned pavlova? Well there is a peek, and I'm working on Lisl to post the recipe.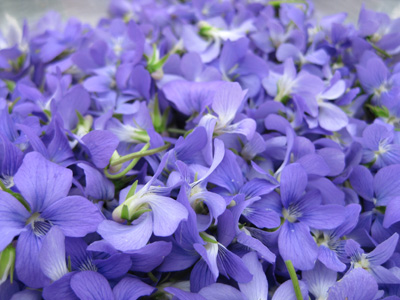 We collected a whole bunch of violets from the lawn, but it turns out they were tasteless and scentless. Still, they were quite pretty!