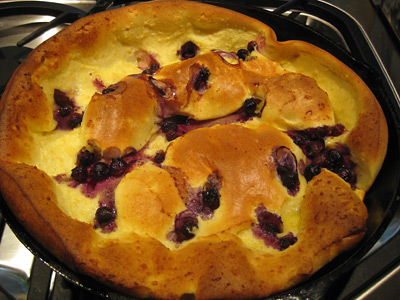 Many years ago, when my sister and I both ended up living in Northern California, our mother decided that her progeny were not properly taken care of for Thanksgiving way out there on the Left Coast. She sweet-talked her friend Nancy, who had a house in Napa Valley, to invite us up for Thanksgiving dinner. We  did not need to be asked twice. The meal and scenery were incredible, but what has lasted with me all these years is Nancy's "easy oven pancake", which many would call a Dutch Baby.  It is much easier than making individual pancakes, and is perfect comfort food in the morning, especially with some thick-cut bacon on the side!
Lately, I've taken to adding fresh fruit to the dish (the top picture has blueberries thrown in) and have been quite happy with the results. Warning: it takes no time to make, but it gets devoured even faster!
Nancy's Easy Oven Pancake
1/4 cup butter, melted
1 cup milk
2 tbsp sugar
1/2 tsp salt
2/3 cup flour
2 eggs
Preheat oven to 400F.
Whisk the milk, sugar, salt, flour and eggs together in a bowl.
In a round/oval baking dish or large cast iron pan, melt the butter (or pour in already melted butter), and then pour in the mixture. Note: I find a porcelain baking dish to be a bit easier to clean with this recipe, but cast iron will work perfectly well.

Bake at 400F for 30 to 40 minutes. Slice and serve with good maple syrup, or if you prefer, powdered sugar. It will puff up beautifully, but expect it to deflate as it cools (this does not affect the flavor, just looks less dramatic).
Variations
1. Scatter blueberries or other kinds of fresh fruit around just before placing in the oven.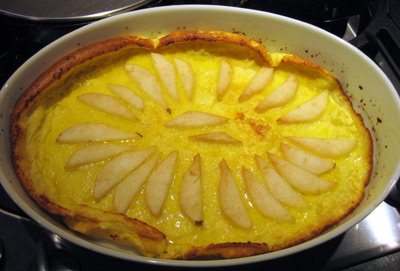 2. I also made the above version with peeled, thinly sliced pear, and placed the fruit on top after the dish had been in the oven for about 10 minutes, which is why you see that it didn't puff up around the pear quite as much as with the blueberry version at the top.  With the pear, I do not think it needs maple syrup, although try telling that to a 4 year old!