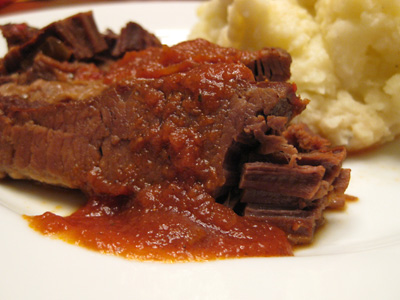 It has been quite a ride the last few months.  This week I'm incorporating a new tech startup, with a co-founder I couldn't be more pleased to be working with.  More on that to come (and thank you to those who took my first survey).  I'm loving being back at the ground floor with an idea I'm passionate about.  Obviously my time is crunched, but that doesn't mean I still don't need to put good food on the table!  The only trouble is that I have to speed some things up, and I can't be quite as creative, ambitious, or exploratory.  I also need to carve out a little more "fun" time to catch up on the food blogs of so many people I have come to both like and admire out there.
This recipe is not radically different from other beef braises I have done, but in this case I chucked out any step that didn't feel completely necessary (like searing the meat beforehand).  You know what? It took minutes to throw together and the results were still awesome.
Brisket Braised in Beer
4 or 5 lb brisket
1 and a half large spanish onions (or yellow, vidalia, white)
5 garlic cloves, peeled
1 28 oz can of crushed tomatoes
1 beer (in this case I used sapporo)
3 bay leaves
1 tbsp dry oregano
salt and pepper
Set the oven to 300F.  Salt both sides of the brisket liberally (I like using kosher salt).
Chop your onions and place half in the bottom of a dutch oven large enough to fit the meat (it is ok to squeeze the meat in — the brisket will shrink as it cooks).  Place the meat on top, and then scatter around the rest of the onions and the garlic cloves.  Pour the crushed tomatoes on top, scatter the bay leaves, oregano and a little freshly ground pepper on top, and pour in the beer.  Cover and place in the oven.
Stick in the oven for about 6 hours, flipping half way through.
When you serve the meat, don't forget to cut across the grain, and it's great with a little coarse salt on top.
The braising liquid and vegetables become a fabulous gravy.  Just spoon out any liquid fat on top, spoon some into a food processor, and blend.  Taste for salt and pepper.