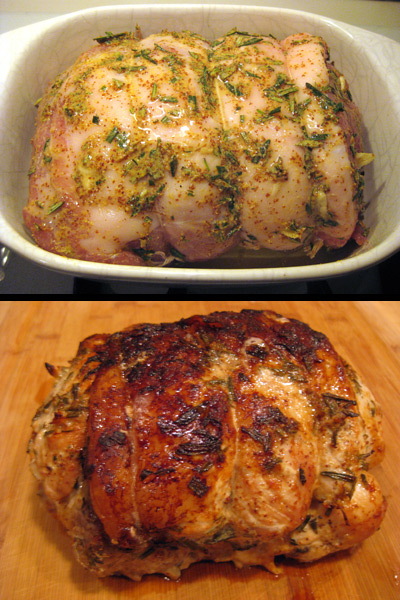 I spent days scratching my head over what to make for Christmas dinner, and decided to go with a classic pork roast.  With the Battle for Cold/Flu Pass raging in this house, full guns ablazing, we didn't actually have Xmas dinner until two days *after* Christmas (naturally, we didn't make elder munchkin wait that long to open her presents).  Still we have managed to have a very nice holiday season.  I hope you have as well.  Here is the recipe for the pork roast:
Rosemary, garlic and mustard pork roast
4 or 5 lb boneless pork loin (of course, recipe will work for smaller roasts as well)
garlic cloves, peeled
1 to 2 tbsp fresh rosemary, chopped
1 to 2 tbsp grain mustard
olive oil
apple cider vinegar
salt
white wine or dry vermouth
To marinate the pork, start by slicing some garlic cloves into little pointy-ended stakes. With a paring knife, poke a hole in the pork and the stuff the garlic piece inside. Do this all over your pork loin, spacing them out by an inch or two depending on your love of garlic. Then rub about a tablespoon of kosher salt (less if using fine table salt), the mustard and the rosemary all over the pork. Place in something you can put in the fridge, then drizzle olive oil and a couple tablespoons of apple cider vinegar over the top. Cover and place in the fridge for one or two days.
To roast, remove the pork from the fridge, place in a baking dish, and let it come to room temperature for about 20 minutes while you pre-heat the oven to 450F. Roast the pork for 15 minutes, then pour 1/2 cup of wine or vermouth over the top.  Turn the heat down to 325F.
It should take the pork about 2 hours to cook, although start checking with an instant read thermometer earlier.  Every half hour or so, spoon the liquid from the baking dish over the pork.  If the dish is dry, add a little more wine or water.  Remove the pork and let it rest (place a piece of foil on top to keep it from getting to cold while you finish any remaining parts of the meal) when the instant read thermometer gets to 145F or 150F.
To make the gravy: add some water and wine/vermouth to the baking dish, a small amount of flour (maybe a quarter to half a tsp) and a pinch of salt and deglaze the dish on the stove top (note: if you are using ceramic, then get a heat diffuser rather than having the dish right on the flame).  Remove the excess oil — one simple method is to pour it into a measuring cup and then pour off the oil that rises to the top.
We served this with some brussel sprouts, parboiled and then sauted with champagne wine vinegar, and roasted potatoes.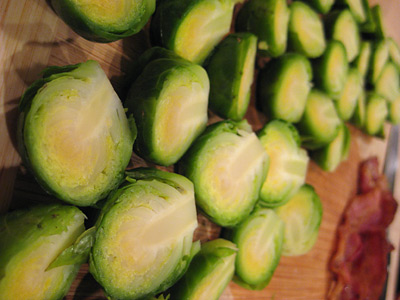 I hope that this post sees you all well, and happy holidays from our family to yours!