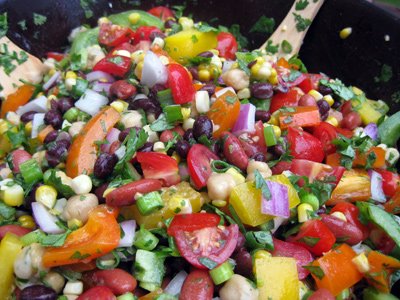 When picnic season rolls around, this is always my most requested dish. I've had a number of requests to update the recipe here, so with no further ado:
The Basics:
1 can kidney beans, rinsed (1)
1 can chickpeas, rinsed
1 can black beans, rinsed
1 green pepper, chopped
1 red pepper, chopped
half a red onion, finely diced
1 or 2 ears of corn, niblets cut off the cob (2)
large handful of cherry tomatoes, halved
large bunch of cilantro, finely chopped
juice from 6 or 7 limes
1/2 tsp olive oil
salt and pepper (3)
Optional:
4 or 5 tomatillos, diced
1 jalapeno pepper, stem and seeds removed and minced
handful of spring onions, diced
1 yellow or orange pepper, chopped (for more color)
The instructions are as simple as "combine it all together", but it is always better if you make it a couple hours ahead of time so that the lime juice permeates more. A few additional notes:
1. I always rinse canned beans really well under cold water, and drain them well
2. for the corn, you can boil the corn for 4 or 5 minutes, but I usually microwave them for no more than 2 minutes in the husk. Then I slice the niblets off with a chef's knife and then break up the niblets by loosely running the corn through my fingers
3. add salt to taste, but the beans will want a fair amount of salt. If you are using fine table salt, start with about 1/4 tsp, and add to taste. If kosher salt, start with about double that.