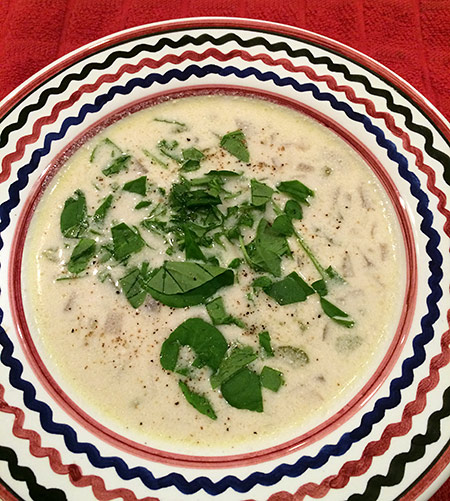 This is a riff off of my grandmother's oyster stew recipe, which I've adapted for clams and lightened up a bit. Lisl loved it. Great with a crisp white wine.
Ingredients
24 littleneck clams
1 onion, diced
3 stalks of celery, diced
1 clove of garlic, minced
watercress, loosely chopped
2 tb of butter
1 cup of light cream
2 cups of whole milk
dry white wine
worcestershire sauce
Recipe
Rinse the clams. Heat up a soup pot, place the clams in the pot on a high flame, and pour in a bit of white wine to create steam. Cover and cook for a few minutes — just long enough for the clams to open. If most are open, turn off the heat and keep covered for another minute or so for the rest to fully open.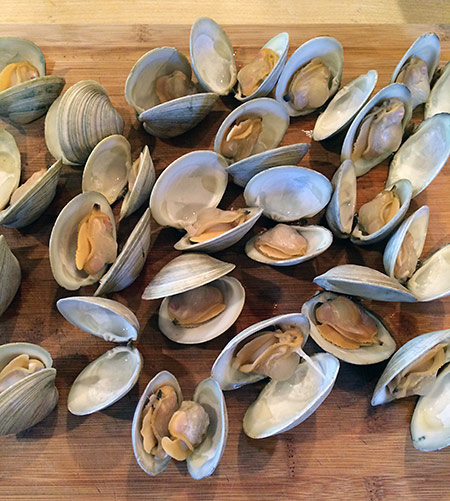 Remove the clams from their shells and chop up.
Save the brine-y liquid from the soup pot and put to the side.
Rinse the soup pot. Put back on the stove on medium-low heat. Melt the butter and add the diced onion and minced garlic, stirring to make sure they do not brown. When the onion is translucent, add the celery and cook until the celery softens.
Add the cream, milk, a cup of wine, half a cup of the reserve liquid from steaming the clams, and a cup of water. Add the clams. Turn the heat down to low and simmer very lightly so that the cream does not curdle.
Add 4 drops of worcestershire sauce (or to taste) and a pinch of fresh pepper. After 15 minutes, taste. If you want more of that briney flavor from the clams, add more of the reserve steaming liquid (I ended up using about 1 1/2 cups).
Serve with a bunch of the chopped watercress, and a nice baguette.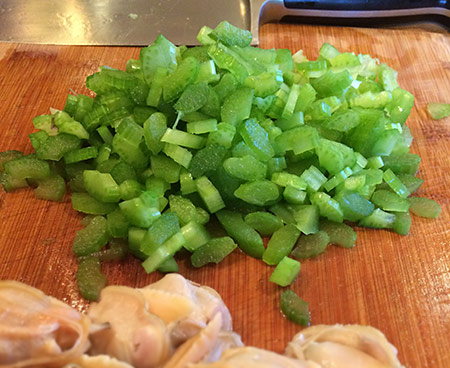 p.s. oh it's nice to sneak a moment to food blog again…