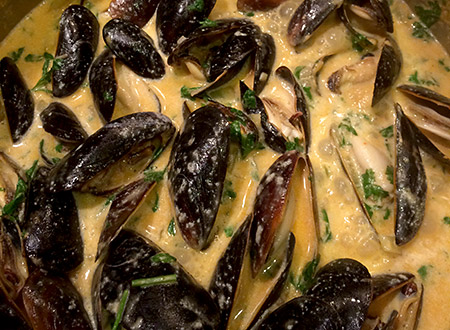 (serves 2 people)
1 lb mussels
1 small onion, thinly sliced then roughly chopped
2 cloves of garlic, thinly sliced
1 thumb-sized knob of ginger, peeled and thinly sliced
1 TSP tomato paste
1 can of coconut milk
1 fresh hot pepper (or dried hot chili pepper flakes)
1/2 cup of dry vermouth or white wine
1/2 cup water
large bunch of cilantro, loosely chopped
olive oil
salt and pepper
Clean and de-beard your mussels under cold water. Discard any that are open or have broken shells. If you bought wild mussels, soak them in cold fresh water for 20 minutes before cooking.
In a large soup pot, heat up the olive oil on medium-low heat. Saute the onions, garlic, ginger and tomato paste, stirring regularly so that the garlic does not burn. Add the coconut milk, vermouth, and water. Add in a few slices of your hot pepper (I used 4 thin slices of a jalapeno, but if you want it really hot, add more. If you use dried pepper flakes, start with just a pinch). Add a pinch of salt and the same of freshly ground pepper.
Simmer for 15 minutes so that the flavors blend. Add a bit more water if it starts to thicken too much.
Taste for salt and pepper, but leave it just slightly under-salted.
Stir in the mussels and cilantro, cover and simmer until all the mussels are open.
Serve in a bowl with lots of the broth and good bread on the side.
p.s. fun tip for eating mussels: use an empty shell as your utensil to pinch the meat out of the other shells.