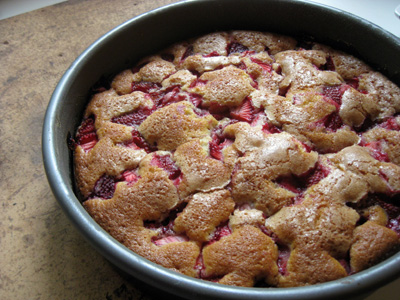 A year ago, Gourmet Magazine lit up quite a few food blogs with their Raspberry Buttermilk Cake recipe.  Munchkin and I made it and everyone loved it.  This year I found myself at a crossroads of two nice happenstances.  The first was a surplus of delicious strawberries from a farm in the Catskills.  The second was leftover buttermilk after making Alice Waters' delectable chocolate cake (from the Art of Simple Food).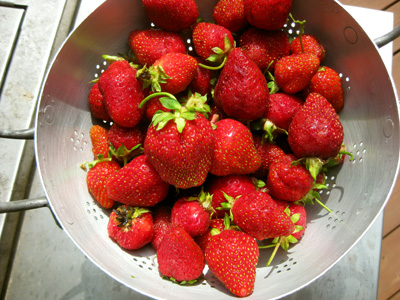 So we brushed off the recipe, and made it again — this time with strawberries.  It's extremely easy to toss together, and a delicious summer lunch dessert. Here are the ingredients, and you can get the full recipe over at Epicurious:
1 cup all-purpose flour
1/2 teaspoon baking powder
1/2 teaspoon baking soda
1/4 teaspoon salt
1/2 stick unsalted butter, softened
2/3 cup plus 1 1/2 tablespoons sugar, divided
1/2 teaspoon pure vanilla extract
1 large egg
1/2 cup well-shaken buttermilk
1 cup fresh strawberries, washed and quartered
It is a shame Gourmet was shut down, especially since I vastly preferred it to Bon Appetit, but such are the woes of the publishing industry right now. Aside: this was my first time using the iPad in the kitchen to follow a recipe, and it is great for that purpose.  Epicurious' iPad app is nicely done, and it's a marvelous device for browsing food blogs.