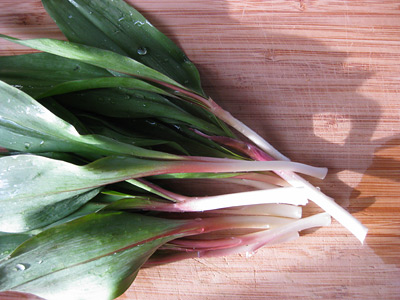 Easter Sunday was a bit unusual for me this year.  I spent the morning with family, but ever-patient Lisl gave me special dispensation to spend the afternoon tromping around the woods with a bunch of other food bloggers collecting wild ramps, fiddleheads, stinging nettles, wild garlic, and more.  This outing was organized by Marc of No Recipes (who has a full write-up of the event and resulting menu on his blog, along with some great photos) and Jonathan of Lab 24/7.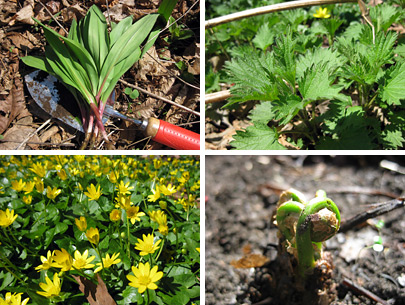 (Clockwise from top-left: ramps; stinging nettles; fiddleheads; non-edible but pretty flowers)
I now understand the special appreciation people have for ramps.  Douse them in olive oil and sea salt and toss under the broiler for a few moments, and the results will make you go weak in the knees.  Since Sunday, I have also eaten pickled ramps, sauteed ramps with the drippings from a roast chicken, made ramp fritters (recipe below), and later this week will be making a ramp risotto.  One has to strike when the iron is hot!