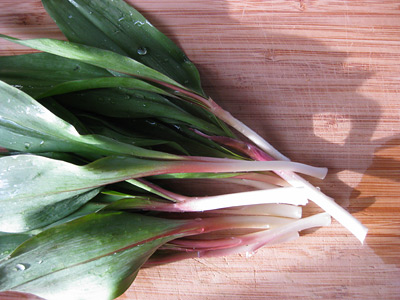 Easter Sunday was a bit unusual for me this year.  I spent the morning with family, but ever-patient Lisl gave me special dispensation to spend the afternoon tromping around the woods with a bunch of other food bloggers collecting wild ramps, fiddleheads, stinging nettles, wild garlic, and more.  This outing was organized by Marc of No Recipes (who has a full write-up of the event and resulting menu on his blog, along with some great photos) and Jonathan of Lab 24/7.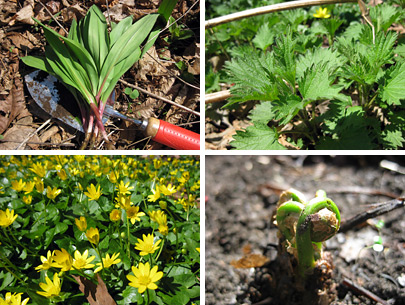 (Clockwise from top-left: ramps; stinging nettles; fiddleheads; non-edible but pretty flowers)
I now understand the special appreciation people have for ramps.  Douse them in olive oil and sea salt and toss under the broiler for a few moments, and the results will make you go weak in the knees.  Since Sunday, I have also eaten pickled ramps, sauteed ramps with the drippings from a roast chicken, made ramp fritters (recipe below), and later this week will be making a ramp risotto.  One has to strike when the iron is hot!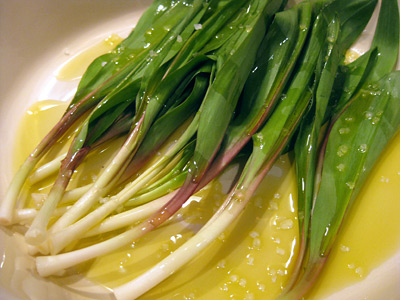 Unfortunately, with a newborn at home, I was not able to partake in the amazing feast put on by Marc and crew (with the talents of Stephane from Zen Can Cook and Claire from Colloquial Cooking), so I am not able to speak to the taste of fiddleheads and stinging nettles, but at least I am now armed with the knowledge to forage such things in future!  I had a great time, however, and spending time in the kitchen with that team prepping the meal was a blast.  Now, I had mentioned ramp fritters had I not?
Ramp Fritters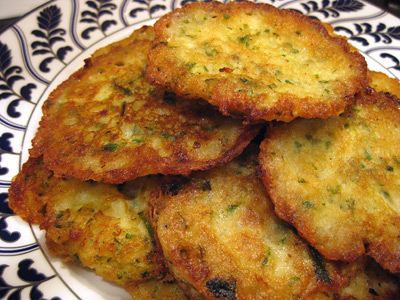 Tonight's recipe combines Richard Olney's fritter batter with ramps, zucchini, parsley, and lemon. Beating the egg whites makes these feel quite light and decadent for something fried, and it is a technique I will use more often in future.
Fritter Batter
from Richard Olney's Simple French Food
3/4 cup flour
2 eggs, separated with whites set aside
3/4 cup beer (I used Bass pale ale)
2 tbsp olive oil
1/4 tsp salt
Fritter mixture
15 small to medium ramps, cleaned (treatment below)
2 zucchini, peeled and grated
2 tbsp finely chopped parsley
1 stem of wild garlic or a small garlic clove, finely minced
salt and pepper
juice from half a lemon
splash of olive oil
First create the base of the batter by combining the flour, egg yolks, beer, olive oil and salt in a bowl and whisk just enough to blend everything together smoothly.  Let rest for at least an hour, which according to Olney helps it better coat the items to be fried (this can be skipped given this recipe's particular approach, but I did it anyway).
In a colander, thoroughly squeeze the moisture out of the grated zucchini with your hands.  Place in a bowl.  Finely chop the stems of the ramps, chop a fine chiffonade of the leaves, and add to the bowl.  Stir in the garlic, lemon juice, olive oil and a pinch of salt and pepper. Let this rest as well while the batter sits.
Beat the egg whites until the peaks hold, and fold them into the batter.  Gently stir the vegetables into the batter.
Heat up some olive oil (or a mixture or olive oil and vegetable/canola oil) in a large cast iron pan on medium-high heat, enough to well-coat the surface of the pan.  When a drop of water jumps and sizzles in the pan, you are ready.  With a decent-size soup spoon, place spoonfuls of batter around the pan, being careful not to overcrowd or let fritters touch each other.  Cook until golden brown on both sides, then remove to a drying rack or a plate with paper towel.
Serve with some fresh lemon juice and taste for salt and pepper. While I was not able to test this tonight, I also suspect that crème fraiche in addition to the lemon would make a wonderful complement to the fritters (a combination Marc used to good effect with the amuse bouche shortbreads he made).
– – –
I'm going to leave you with a shot of Stephane's pickled ramps, which were heavenly, as an unsubtle attempt to peer-pressure him into blogging the spice ratios. These were so quickly devoured that they had to be hidden to save some for the evening's pork belly dish. They also contributed to a killer martini.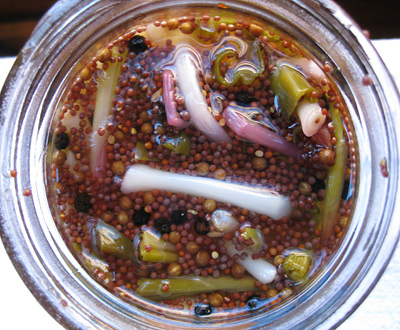 Update: Liz from the Zested blog (wonderful photography), who I met that day, beat Stephane in getting the pickling recipe up. Check it out!