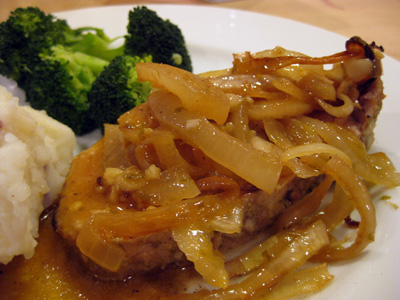 I rarely mix fruit and meat. A pork-and-apples dish was the cause of a veritable showdown at the OK Corral of my mother's kitchen when I was 7 years old.  But a few years ago when I was just starting out with this blog, I remember doing a pork roast with orange juice and loving it. I never recorded the recipe, but my brain did store away a mental bookmark to Bitchin' Camero's recipe from back in May 2009.  Last weekend, I finally took another shot at my own version.  The result was stunning.
Pork Loin Roast w Orange Juice and Lime
2 to 2.5lb pork loin roast
5 or 6 cloves of garlic, finely chopped
1/2 vidalia onion, sliced
1 very juicy lime, or a couple of normal ones
2/3 cup orange juice
1 tsp ground cumin
salt and pepper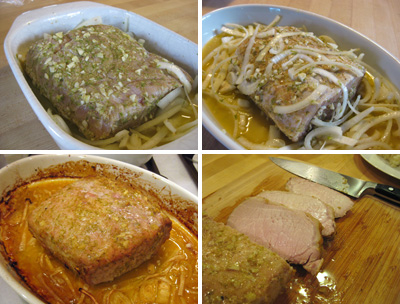 I recommend marinating the meat for half a day or more beforehand.  To make the marinade: zest the lime, finely chop the garlic, and mix it all together with the cumin, salt (for table salt, maybe 1/2 tsp), and a couple pinches of black pepper.  Rub this all around the meat, surround with the onions, pour the orange juice on top, and squeeze the juice from the lime over it all. Cover with plastic wrap, and if you can, turn the meat once or twice as it marinates.
To cook, pre-heat the over to 350F. You can see above that I transferred it all to a larger baking dish.  Cook the pork for about an hour, flipping it halfway, and remove from the oven when an instant-read thermometer registers 140F to 145F.
Cover with foil and let it rest for 5 minutes before slicing.  Serve with the onions, which become deliciously candied, and drizzle the sauce from the roasting dish on top (if you left a good portion of fat on your roast, you might skim the sauce first).
Repeat: do not forget to plate the onions! Heaven.
This dish isn't going to turn me into a fruit-and-meat man, but I will definitely be making it again.
(p.s. I can't write a blog post without pimping my current startup Aprizi, the reason why my food blogging is so sporadic — please go try it out!)