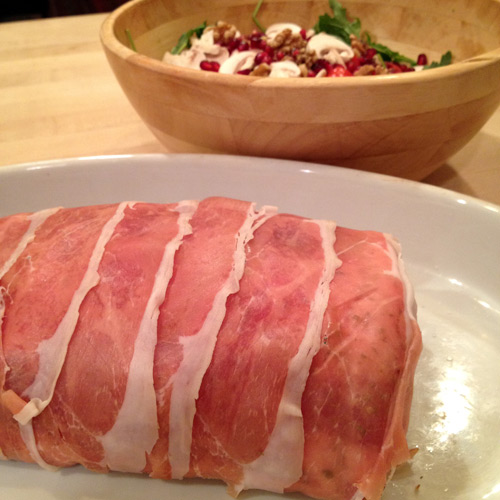 I'm always a fan of the combination of taste and simplicity, especially these days when my schedule does not allow for extended adventures in the kitchen.  This dish was a snap to make, and tons of flavor. The oregano and prosciutto combine beautifully and seep into the roast.
a boneless pork loin
enough imported prosciutto to wrap the loin
oregano (fresh or dried)
ground pepper
Pre-heat the oven at 350F. Sprinkle the loin liberally with freshly ground pepper and fresh or dried oregano. Because the prosciutto has so much salt, I would argue not adding any salt at this point.
Wrap the loin in prosciutto, overlapping each layer. Do not use cheap domestic (US) prosciutto — it has weak flavor and your results will be boring.
Roast the loin in the oven — it can take 30 minutes to an hour depending on the size of the loin. Remove the loin when an instant-read thermometer shows 135 degrees. Loosely cover in foil and let rest for 5 minutes, then slice and serve. Taste and only add salt at this point if you think it is needed.
We served this with a nice green salad, roasted brussel sprouts, and a hearty Italian wine.