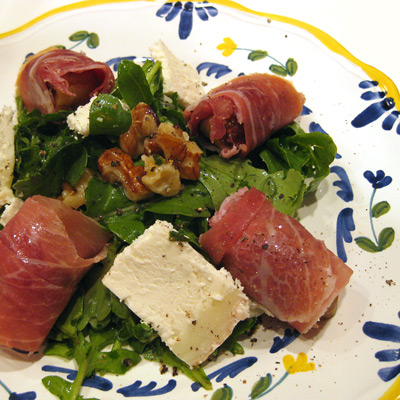 I learned to cook from two women: my mother, and Julia Child.  The latter was from a book, but nothing beat looking over my mother's shoulder and pestering her with questions.  This occurred shortly after I graduated from college, moved to Austin, and quickly realized that the only way I could afford decent food was to make it myself. It did not take many canned soup evenings to tenderize my brain into an eager state to learn.
When we traveled down to Washington D.C. this past weekend, I had a chance to cook in my mother's kitchen and tried to make the most of it as time permitted.  The dinner was not complex, but the results were successful: this salad followed by a ramp and mushroom risotto (posting next).  This post is about the salad: simmering dried turkish figs with thyme, wrapping them with prosciutto, and serving on a bed of arugula, walnuts and goat cheese with a lemon/olive oil dressing. At the bottom of the post, I've also included some photographs taken while walking around Georgetown.
Prosciutto-wrapped figs, arugula and goat cheese salad
Serves 4
Baby arugula
8 dried turkish figs
1/3 lb of prosciutto
Handful of walnuts, broken up or roughly chopped
Good goat cheese
1 lemon
Fresh thyme
Olive oil
Salt and pepper
Figs are not in season right now, but we can still get dried figs. For the salad, I simmered the figs for about 15 t0 20 minutes, just covered with water and with some sprigs of thyme. The figs were then removed from the water and patted dry.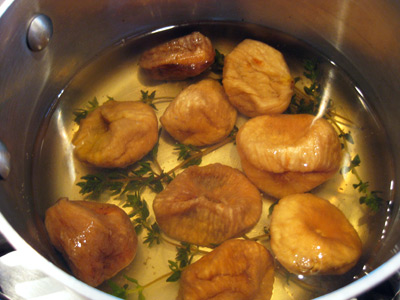 Measure out enough baby arugula (rocket) for 4 small plates.  Wash and dry by gently rolling in a kitchen towel.  Create your dressing to taste by combining the juice of 1 lemon with olive oil (add the olive oil slowly, whisking with a fork, and taste as you go), salt, pepper and a bunch of thyme leaves.  Place the arugula and walnuts in a bowl and toss with the dressing. Let sit for a few minutes while you finish the rest of the salad.
Cut the prosciutto slices into long strips about 1.5 inches thick.  Halve the figs with a sharp knife and roll each half in a length of prosciutto (1/3 of a pound, thinly sliced, should provide enough).
Lisl did the plating and I liked her approach: plate the salad by mounding the arugula, accumulate some walnuts on the top, crumble some thinly sliced goat cheese around (we used a Boucheron), and place the wrapped figs.  Take the lemon dressing that has accumulated on the bottom of the bowl and, with a small spoon, drip on each of the wrapped figs.  Top with some fresh pepper.
This was paired with a full-bodied Verdicchio white from Italy.
– – –
While walking the dog, I had a chance to stroll around Georgetown on a perfect spring day — the kind we are dying for up north (as I write this, back home in NY, it is cold and pouring rain outside).  Like many, I love to take pictures of doors.  What is it about portals that captivates our imaginations?  A door combines color, geometric line, and ornamentation.  It spells passage, curiosity, and stories. In any case, here are a few snaps that caught my eye.