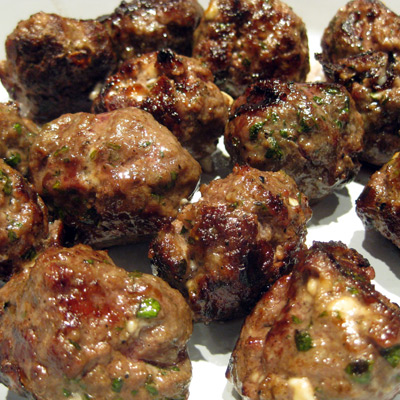 When summertime arrives, as it did in gorgeous fashion this weekend, a lot of my cooking shifts outside to the grill.  If you are the same, and looking for ideas, here are two different flavor profiles you might find interesting: grilled lamb and feta meatballs with a yogurt mint sauce, and a ginger, mustard seed and soy sauce marinated london broil (aka flank steak).
Grilled Lamb Meatballs w Yogurt Mint Sauce
I have really been enjoying working with ground lamb recently.  It is fabulous to use when stuffing an eggplant or zucchini, or you can grill little patties mixed with spring onions and ground cumin.  But right now, this recipe below is tops in my book:
Meatballs
1 lb ground lamb
1 tbsp finely chopped fresh oregano and winter savory
1/2 tsp kosher salt
1/2 cup crumbled greek feta cheese
Sauce
4 heaping tbsp of greek yogurt
2 tbsp of finely chopped mint
juice of 1/2 lemon
salt to taste
olive oil to taste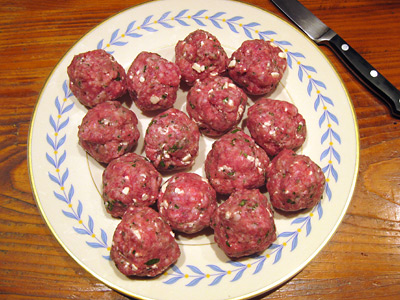 Combine the lamb, herbs, salt and feta in a bowl and thoroughly mix it all together with your hands (if you do not have fresh winter savory, just use oregano, but I have to say that fresh savory is one of my favorite discoveries this year).  Shape round meatballs of 1.5 inches in diameter; as you can see, I ended up with 14.  Grill them on a medium hot grill.  They do not take very long to cook, but you will want to hover over them with a pair of tongs to turn them to brown a few sides, and to move them when the inevitable flare-ups occur.   Take them off when they are medium. You can feel doneness with a finger or the tongs — don't let them get too hard, i.e. overcooked! Use a set of tongs that will be gentle on the food, i.e. does not have jagged claws of death.
Lisl (who is the lamb expert in the house, being Australian) had the idea of serving these with a yogurt-mint sauce and the pairing worked marvelously.  Just stir the yogurt, mint and lemon juice together in a bowl, and add a pinch of salt and 1/2 tbsp of olive oil.  Add more salt and olive oil to taste (I probably ended up at about 1 tbsp).
London Broil Marinated in Ginger, Mustard Seed, and Soy Sauce
I love working with "london broil", which is an American term for round steak, usually 1 to 1.5 inches thick, marinated and then typically cooked under the broiler or on the grill. This is a cheaper, tougher cut of meat, which benefits from being tenderized, cooked to medium-rare, and thinly sliced.  The leftovers are always marvelous for sandwiches.  As you can see, the marinade included more than ginger and mustard seed, but a title can only be so long.
1.5 lb london broil round steak
1 large knob of ginger (about 1.5″ thick, 2″ long), finely chopped
1/2 tsp yellow mustard seeds
1/2 tsp coriander seeds
8 black peppercorns
1/2 tsp brown sugar
1/2 tsp salt
soy sauce
With a mortar and pestle, coarsely grind up the mustard seeds, coriander seeds, and peppercorns.  Stir in the brown sugar and salt.  On a dish or tray large enough to hold the piece of beef, scatter down half of the ginger and half of the spice mix.  Lightly drizzle a little bit of soy sauce around.
Rinse the beef and with paper towel, then place on the tray, on top of the ginger and spices.  Scatter the remaining ginger and spices on top, and again lightly drizzle with soy sauce.  With your hand or a utensil, smear some of the marinade mixture on the sides as well.  Cover the tray with plastic wrap and refrigerate for at least 6 hours. You can also just marinate the beef in a plastic bag, but I prefer this method since I know a tray won't leak!
Cook on a hot grill, between 2 and 5 minutes a side depending on how hot your grill gets.  Remove when it feels medium-rare to the touch, and let rest for several minutes on a cutting board before thinly slicing across the grain (important!) and at a 45 degree angle.
I served this with some baby potatoes roasted in foil on the grill (with olive oil and rosemary) and asparagus.  A green salad with a lemon-olive oil dressing would also be a nice complement.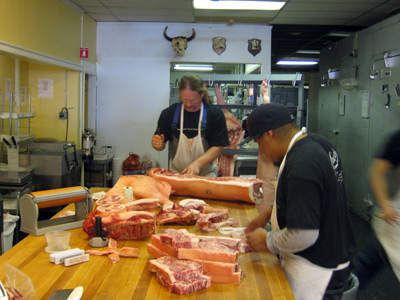 Of course, it always helps to work with great meat.  That's Josh Applestone, from Fleisher's in Kingston, breaking down a Berkshire pig for a pork loin I tried smoking on my gas grill with hickory chips (verdict: fine, but a roast would have been better. I don't think my grill contained the smoke well enough).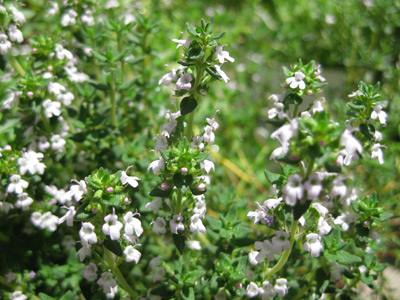 I'll leave you with a picture of thyme flowers growing in a pot outside our kitchen door. I wish I had a picture of the Eastern Phoebe tending a nest over our dining room window.  It took me forever to pin down whether it was a Flycatcher, Peewee, or Phoebe since it was rather skittish.  A longstanding bird geek, I love my Sibley guide.