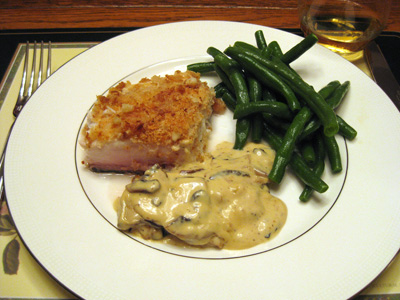 Some days you see a recipe and weather be damned.  That's what happened to me when I was flipping through Richard Olney's homage to Lulu Peyraud, Lulu's Provencal Table and saw:
"Baked Halibut with Mushrooms and Cream"
Yes, I'm a sucker for breadcrumbs.
I cooked the dish that very night to bid adieu to L's mother, flying back to Sydney the next day.  I made a few small adaptations, and the results were absolutely delicious and comforting.  This dish will be back on the menu again in future, no question.
Ingredients
2 halibut filets (enough for 4 people)
1 tbsp olive oil
1/2 cup white wine
1 cup coarse breadcrumbs (ideally French baguette or rustic/farm bread)
1 lemon, sliced into thin rounds, ends discarded
3 tbsp butter
3/4 lb mushrooms, half shiitake, half white mushrooms, trimmed, cleaned and finely sliced
1 cup heavy cream
Preheat the oven to 450F.
Lulu stresses having coarse and irregular breadcrumbs, which she makes by rubbing together two broken ends of dried out baguette.  In my case, I didn't have bread quite dry enough, so I pulled apart some bread into small pieces and placed it in the oven on a baking tray to lightly brown and then broke up the pieces a bit more.
Clean and dry the filets, place in a baking dish, then rub with olive oil and salt and pepper.
Spread the breadcrumbs over the fish, then place the lemon slices on top in an overlapping pattern.  Distribute 1 tbsp of butter, cut into small pieces, around the top.  Pour the wine around the fish and place into the oven.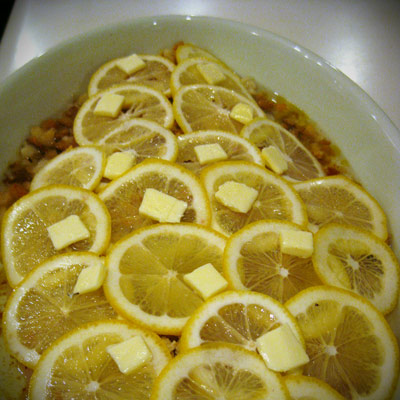 Your cooking time will depend on the thickness of the fish. If they are 1 inch thick, expect about 12 minutes.  If they are 2 inches, expect more like 20 minutes.  The most critical thing is not overcooking the fish!
Olney suggests basting, which I did but decided it wasn't necessary, although if the liquid dries up you'll want to add more. Olney writes "if the liquid threatens to dry up, add some boiling white wine to the dish", but I say boo! to that.  I'm not boiling up a wine I can drink (I don't cook with undrinkable wine, not counting vermouth) when I don't know if I need it or not! I would suggest having a little boiling water at hand in case it is needed.
About 5 to 10 minutes before removing the fish from the oven, add 2 tbsp of unsalted butter to a large heavy frying pan and melt over high heat with a splash of olive oil.  Add the mushrooms and season with salt and pepper.  Toss and stir the mushrooms around until they are fully cooked and any liquid released has evaporated, then remove from heat.
When you remove the fish from the oven, if there is much liquid in the baking dish, add that liquid to the mushrooms.  Return the mushrooms to high heat, reducing the liquid, and then add in the cream. Bring the cream to a boil, constantly stirring, and reduce. Olney suggests a "light-bodied sauce" consistency, but I made the mushrooms a little thicker — follow your own preference.
Remove the lemon slices and serve the fish, spooning the mushrooms and sauce to the side.
As you can see from the picture, we paired this with a very simple side of green beans, boiled and tossed with a touch of butter, salt, pepper. We would also suggest asparagus.
From a wine perspective, it really needs a strong white that can hold it's own against the cream. We paired this dish with a full bodied Chardonnay made in French oak.