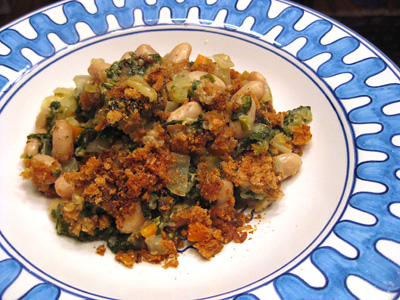 It feels like forever since I've had a moment to write a post.  Interesting recipes have come and gone, never written down, photo-less, and unblogged.  Furthermore, it sucks not having the time to keep up with the blogs of all the friends I have made in the food blogosphere. Such is the nature of starting a company, Speaking of, please come over to Aprizi, try it out, and let me know what you think.  We just opened up a fledgling beta, and if you like shopping online and discovering cool new stuff, I hope you love what we're doing.
OK, shameless plug complete! Let's talk about this dish, which was a tad involved but oh so good.  Hearty vegetarian fare, although suited for a cooler evening.  It is inspired by Alice Waters' Chard Gratin.  I just turned it into a meal. It has been a few weeks, but here is my best recollection of the dish:
Chard and Cranberry Bean Gratin
Large bunch of chard, leaves and stems separated
1 onion, diced
2 or 3 carrots, diced
1 stalk of celery, diced
1/2 lb of cranberry or borlotti beans
1 tsp fresh winter savory, finely chopped
salt and pepper
4 tbsp unsalted butter
3 tsp flour
3/4 to 1 cup milk
1 cup fresh breadcrumbs
I was working with dried cranberry beans. Put them in a pot with water an inch over the top of the beans, tossed in a couple bay leaves, brought to a boil for a couple minutes, then let simmer until just tender (time will depend on whether you soaked beforehand). Save 1/2 cup of the cooking liquid and drain the rest.
Make breadcrumbs by placing stale or fresh bread in a food processor. Spread them out on a baking tray, dot with pieces from 1 tbsp of butter, and toast in a 350F oven until lightly golden.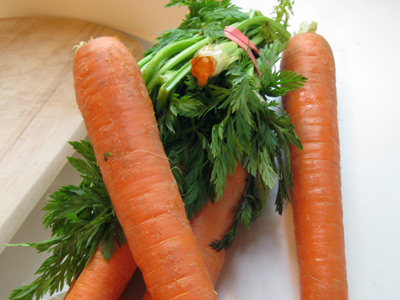 Bring a large pot of water to a boil and cook the chard leaves for about 3 minutes, then remove with a slotted spoon and let them drain and cool.  Dice the chard stems and cook them in the boiling water for 5 minutes, then drain.
Melt 2 tbsp of butter in a large (ideally oven-capable) skillet and saute the onions on low heat until translucent.  Add the carrot and celery and continue to cook for 10 minutes.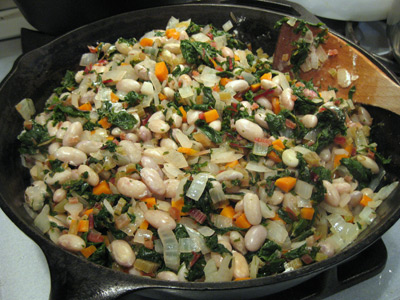 Add the beans and the bean liquid and/or some white wine, and continue to let it simmer (turn up the heat a tad, if necessary), stirring occasionally.
Squeeze much of the excess liquid out of the chard leaves and coarsely chop them.  Add the chard stems and chard leaves to the skillet.  Add the winter savory (Note: I think oregano or tarragon would also work).  Let simmer for a few minutes.
Sprinkle and stir in the flour, then stir in the milk.  Cook for 5 more minutes, adding more milk if the mixture gets too thick. Add salt and pepper to taste.
If you are not using an oven-friendly skillet, transfer to a baking dish.  Spread the breadcrumbs on top, dot with bits from the last tbsp of butter, and bake for 30 to 40 minutes in the 350F oven.