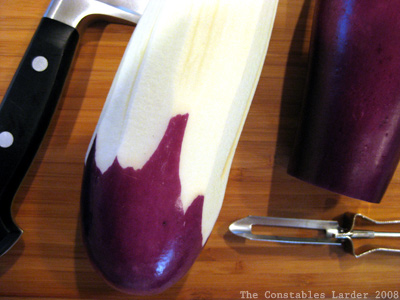 I've been on a gratin kick again the last few days.  The first one was a remake of an eggplant, zucchini, basil and cheese gratin dish I blogged a year ago.  It was one of my favorite meals of 2008, and it struck gold again. It should have been enough for 4 people, but was so good, Lisl and I pigged out and finished it off in one sitting! I've gone back and updated the recipe if you are interested.  Make it while everything is in season!
I also grilled a skirt steak last night and wanted to share/record the sauce after very good reviews from our guests (no photo, was too busy getting food on the table).
Mustard Sauce for Skirt Steak
1 medium shallot, finely chopped
1 1/2 cup chicken stock
1 tbsp grain mustard
2 tbsp dark rum
1 tbsp apple cider vinegar
salt to taste
On medium-low heat, saute the shallots in a splash of olive oil in a medium-sized pan for a few minutes, until they soften. Pour in the chicken stock and bring to a boil. Stir in the mustard and rum and reduce to a light sauce consistency, then stir in the vinegar. Taste and add a small amount of salt if you desire.
Note: an important thing with skirt steak is to give it lots of salt and pepper before you toss it on the grill, and then thinly slice across the grain (I usually cut it into 6 inch lengths before grilling, so that it's easier to slice).