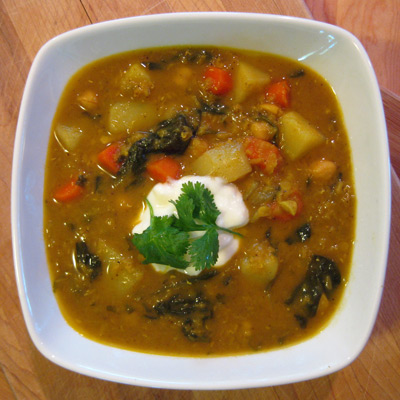 This was a hearty vegetarian soup I tried last night, inspired by this recipe spotted on Gojee, albeit with quite a few changes in ingredients and cooking time (and a much less pretty photo). It was simple to toss together and perfect for a cool evening.
2 tbsp olive oil
1 large onion, chopped
3 – 4 cloves garlic, minced
3 medium waxy potatoes, peeled and chopped
1 large bunch spinach, washed and coarsely chopped
1 cup red lentils
6 carrots, chopped
1 can chickpeas, drained and rinsed well
4 cups vegetable broth
1 tbsp tomato paste
3 tsp curry
1/2 tsp cayenne pepper
1 tsp salt
big pinch of black pepper
In a soup pot, saute the onions in the oil for several minutes on medium-low heat and then add in the garlic, potatoes, and carrots. Saute, stirring occasionally, for another 10 to 15 minutes. Then add all of the other ingredients except for the spinach. Bring to a boil and then let simmer for 30 to 40 minutes. Taste for salt and pepper, and add more curry or cayenne if you want a stronger or hotter flavor. Add the spinach and cook for another 10 to 15 minutes. Serve with some yogurt and potentially some fresh cilantro.