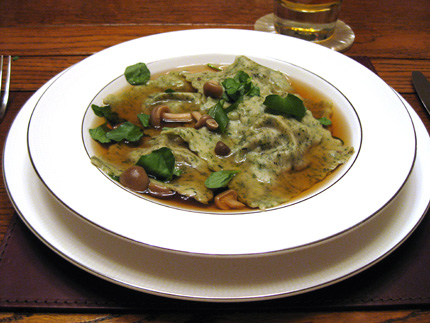 Homemade ravioli, stuffed with shiitake mushrooms, chard stems, shallots, pine nuts, parsley and parmesan, made from fresh beet-leaf pasta, served with a dashi-mushroom broth with watercress, scallion greens, and shimeji mushrooms.
That's a mouthful to say, but was an absolute delight to eat.  It was also my first attempt to make up an Asian-European fusion dish, and emerged out of my need to give the old creative cooking juices a swift kick in the pants.  For the last few months, I poured my energy into a startup project, but unfortunately it became clear that the necessary funding resources were not going to emerge. Creative cooking took a back seat, but last night's meal was its way of pounding a fist on the table and crying "my turn, dammit!" I was quite proud of the results, if I can say so myself.
I've been a fan of fusion since it burst on the New York City restaurant scene in the mid-nineties (flashback to an incredible dinner with Aun, my then-roommate and now the author of the marvelous blog Chubby Hubby, with a Japanese-Italian pasta-and-squid-ink dish served in a bowl made from a huge cheese rind. I love me some cheese!).
With the arrival of my pasta machine (recommended by Zenchef, and after using it last night, I love it!), I decided that I wanted to serve ravioli with a Japanese broth. This led to cracking open Kimiko Barber's The Japanese Kitchen, which has been waiting to be read for the last 6 months, and a hop down to the Japanese grocery store in Harrison, NY.  This is a fairly involved meal, so with no further ado:
Continue reading "Shiitake, Chard Ravioli in Dashi Broth w Watercress and Shimeji Mushrooms"